Alien From L.A. (LE Blu-ray w/slip)
We're sorry we're out of stock, but we can let you know as soon as this product becomes available again.
Enter your details below and we'll email you once this item is back in stock.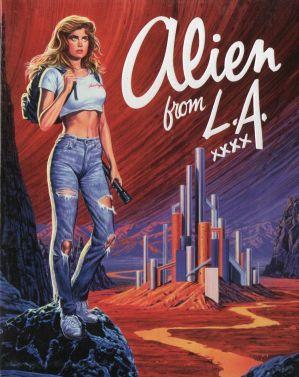 Send this product to a friend
Alien From L.A. (LE Blu-ray w/slip) £25.54
Wanda's famed archeologist father has been missing for years. Out of the blue, she receives an unexpected letter from her father's colleague in Africa informing her that his disappearance is due to his presumed death after falling down a bottomless pit. Deciding to make the transcontinental journey in the hope of finding him alive, Wanda flies to Africa only to end up stumbling down the same pit as her father. Once at the bottom of the hole, she discovers that it's the gateway to a lost subterranean civilization - Atlantis! Unfortunately, the Atlanteans don't take too kindly to visitors from the Earth's surface...

An intentionally absurd late 80s cable TV mainstay from Cannon Films, helmed by beloved cult filmmaker, Albert Pyun (Radioactive Dreams, Nemesis), ALIEN FROM L.A. stars actress and model, Kathy Ireland (The Player) in her breakout role, along with William R. Moses (TV's JAG) and Linda Kerridge (Fade to Black). Vinegar Syndrome presents this wonderfully wacky sci-fi comedy on Blu-ray, newly restored in 2K.

directed by: Albert Pyun
starring: Kathy Ireland, Linda Kerridge, William R. Moses
1988 / 87 min / 1.85:1 / English Stereo

Region A Blu-ray

• Newly scanned & restored in 2k from its 35mm interpositive
• "Making a Fairytale" - an interview with director Albert Pyun
• "Putting the puzzle together" - an interview with actor Thom Mathews
• Audio interview with actress Linda Kerridge
• Reversible cover artwork
• English SDH subtitles
Be the first to review this product.
Leave a review