Cannibal Ferox (3 Disc Deluxe Edition 2 Blu-rays &CD)
Cannibal Ferox (3 Disc Deluxe Edition 2 Blu-rays &CD)
We're sorry we're out of stock, but we can let you know as soon as this product becomes available again.
Enter your details below and we'll email you once this item is back in stock.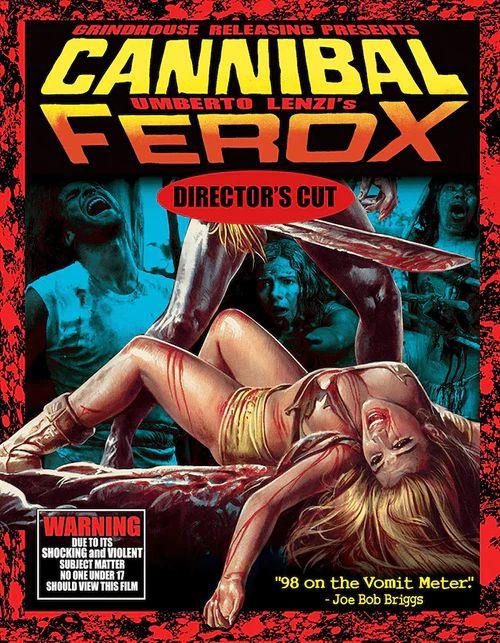 Send this product to a friend
Cannibal Ferox (3 Disc Deluxe Edition 2 Blu-rays &CD) £27.00
Here it is! The original uncensored, unrated director's cut of one of the most notorious and violent films of all time. Banned in 31 countries, CANNIBAL FEROX assaults your senses as a group of Americans lost in the jungles of Amazonia experience brutal retribution at the hands of bloodcrazed cannibals.
 Shot on location in the savage Amazon wilds of South America, CANNIBAL FEROX is one of the most violent and shocking films ever made. There are at least two dozen scenes of barbaric torture and sadistic cruelty graphically shown.  If the presentation of disgusting and repulsive subject matter upsets you, please do not view this film.
Region A
Bonus:
– Original UNRATED, UNCENSORED director's cut
– Spectacular new 2K transfer – scanned from the original camera negative
– SHOCKING deleted scenes – lost for over 30 years!
– Breathtaking digital stereo re-mix by Academy Award winner Paul Ottosson
– Optional Italian language soundtrack and original mono mix
– Candid and shocking audio commentary by director Umberto Lenzi and star John Morghen
– Provocative, in-depth interviews with director Umberto Lenzi, stars Giovanni Lombardo Radice, Danilo Mattei and Zora Korowa, and special effects master Gino DeRossi
– EATEN ALIVE! THE RISE AND FALL OF THE ITALIAN CANNIBAL FILM –
all-new feature-length documentary containing interviews with Umberto Lenzi,
Ruggero Deodato, Sergio Martino, Giovanni Lombardo Radice, and Robert Kerman
– Original Italian, German and U.S. theatrical trailers
– Extensive gallery of stills and poster art
– Glossy 12 page booklet containing liner notes by legendary 42nd Street historian Bill Landis (author of THE SLEAZOID EXPRESS) and Eli Roth (director of HOSTEL and THE GREEN INFERNO)
– BONUS CD – original soundtrack album by Budy-Maglione – newly remastered in stunning 24 bit/96khz sound from the original studio master tapes, and including never-before-released alternate takes
– Beautiful embossed slip cover
– AND OTHER SURPRISES!
Be the first to review this product.
Leave a review