Cemetery Of Terror (blu-ray)
We're sorry we're out of stock, but we can let you know as soon as this product becomes available again.
Enter your details below and we'll email you once this item is back in stock.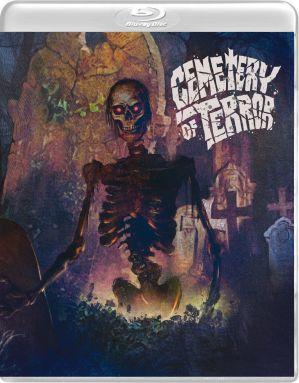 Send this product to a friend
Cemetery Of Terror (blu-ray) £21.29
It's Halloween night and a group of bored teenagers decide to pull a ghastly prank (as a means of getting lucky): stealing a corpse from the local morgue and taking it to a nearby cemetery where they perform a Satanic ritual in an attempt to bring it back to life. Unfortunately, they happen to choose the body of a savage serial killer who has just been shot dead by police, ending a recent spate of satanically influenced murders. Unwittingly reviving the bloodthirsty sadist to the realm of the undead, the group of fun-seeking youngsters risk becoming dinner for the devil worshipping zombie, with only occult expert, Dr. Carden (legendary Mexican character actor Hugo Stiglitz), able to try and put an end to the madness.

The directing debut of Rubén Galindo Jr. (Don't Panic, Grave Robbers), CEMETERY OF TERROR  is easily the wildest zombie movie to ever emerge from Mexico! Filled with extra gratuitous gore effects that would feel right at home in a Fulci film and all of the ludicrous plotting of a Bruno Mattei epic, CEMETERY is non-stop thrills and bloodshed from beginning to end. Vinegar Syndrome presents this quintessential piece of Mexican exploitation cinema on Blu-ray, in a new 4K restoration of recently unearthed 35mm negative elements.

Directed by: Rubén Galindo Jr.
Starring: Hugo Stiglitz, José Gómez Parcero, René Cardona III, Leo Villanueva, Andrés García Jr.
1985 / 91 min / 1.85:1 / Spanish (with English subtitles)

Additional info:
• Region Free Blu-ray
• Newly scanned & restored in 4k from 35mm negative elements
• Commentary track with director Rubén Galindo Jr.
• Commentary track with The Hysteria Continues!
• "Digging Your Own Grave" - an interview with director Rubén Galindo Jr.
• "South of the Border Horror" - an interview with actor René Cardona III
• Reversible cover artwork
• Newly translated English subtitles
Be the first to review this product.
Leave a review