Death Promise (LE Blu-ray Slipcover)
We're sorry we're out of stock, but we can let you know as soon as this product becomes available again.
Enter your details below and we'll email you once this item is back in stock.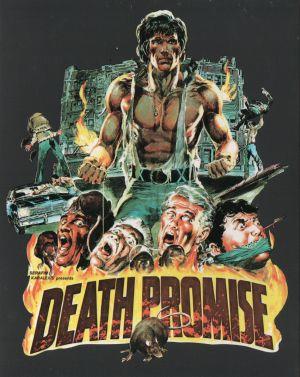 Send this product to a friend
Death Promise (LE Blu-ray Slipcover) £24.29
The residents of a dilapidated New York tenement building are being harassed and threatened by Iguana Realty, the dummy corporation which owns the land, in an effort to force them out of their homes. But when karate master Charley's father is murdered by a group of thugs hired by the landlords, he decides to take matters into his own hands. Enlisting the help of his best friend, fellow fighter Speedy, and driven by a desire for vengeance, they soon develop a plan to murder each board member of Iguana Realty. However, what they don't realize is that their final target is someone much closer to home...

A genre blending grindhouse classic that perfectly embodies the mid 70s, NYC lensed exploitation film aesthetic, Robert Warmflash's DEATH PROMISE oozes sublime 70s sleaze from beginning to end. Starring Charles Bonet (Don't Go in the House) alongside Speedy Leacock, stuntman Thompson Kao Kang (The Black Dragon), and martial arts film legend Tony Liu (Way of the Dragon), Vinegar Syndrome is proud to present the worldwide Blu-ray debut of DEATH PROMISE, newly restored in 2K from its original 35mm camera negative!
Region Free Blu-ray

directed by: Robert Warmflash
starring: Charles Bonet, Speedy Leacock, Kao Kang, Tony Liu, Thompson Kao Kang
1977 / 95 min / 1.85:1 / English Mono

Additional info:
• Newly scanned & restored in 2k from its 35mm original camera negative
• "9,000 feet in 90 minutes" - an interview with editor Jim Markovic
• Original theatrical trailer
• Still gallery
• Reversible cover artwork
• English SDH subtitles
Be the first to review this product.
Leave a review