Fulci for Fake (LE Lenticular Slipcover Blu-ray)
We're sorry we're out of stock, but we can let you know as soon as this product becomes available again.
Enter your details below and we'll email you once this item is back in stock.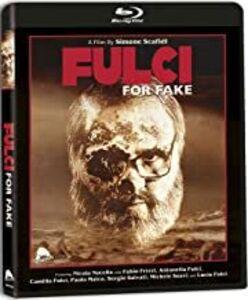 Send this product to a friend
Fulci for Fake (LE Lenticular Slipcover Blu-ray) £27.13
He was known as The Maestro of Splatter and The Godfather of Gore. But who was the real Lucio Fulci? When an actor (Nicola Nocella of EASY and Pupi Avati's THE YOUNGEST SON) agrees to portray the infamous director, he sets out to research the triumphs, tragedies and truths behind Fulci's life, work and legacy. Through never-before-seen home movies, rare behind-the-scenes footage from his classic films, audio confessions from Fulci himself, and revealing interviews that include composer Fabio Frizzi, cinematographer Sergio Salvati, former actor/assistant Michele Soavi and for the first and final time, the dual participation of daughters Antonella and Camilla Fulci, writer/director Simone Scafidi creates an unflinching portrait of the one of the most visceral, controversial and immortal horror filmmakers of all time.
Region A
Special Features:
Interview with Director Simone Scafidi
Crew Interviews
Camilla Fulci Uncut: The first and only video interview with Lucio Fulci's daughter
Lucio Fulci & Friends: Interview outtakes with Sergio Salvati, Fabio Frizzi, Paolo Malco, Michele Soaviand Enrico Vanzina
The Eye Of The Witness: Biographer Michele Romagnoli recalls his relationship with the director
Looking For Lucio: Rare home movies from Fulci's private life and location scouts, with accompanying commentary by Michael Romagnoli and Lucio Fulci
Lucio Fulci's Audio Tapes: Audio highlights from conversations between Lucio Fulci and Michael Romagnoli for the writing of Fulci's memoir
Zombie Parade at the Venice Film Festival
Trailer
Be the first to review this product.
Leave a review