House of Cruel Dolls (blu-ray)
House of Cruel Dolls (blu-ray)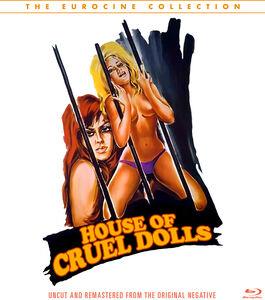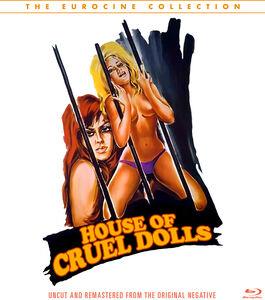 We're sorry we're out of stock, but we can let you know as soon as this product becomes available again.
Enter your details below and we'll email you once this item is back in stock.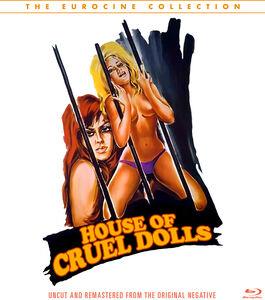 Send this product to a friend
House of Cruel Dolls (blu-ray) £14.81
Her Prison Was Hell!
The Lost Eurocine Sexploitation Classic! Uncut and Remastered! From the studio that brought you OASIS OF THE LOST GIRLS and ZOMBIE LAKE and the director of THE INVISIBLE DEAD and PANTHER SQUAD comes the ultra-obscure, wildly sleazy shocker HOUSE OF CRUEL DOLLS, perhaps the most messed up movie in the vast Eurocine library! Also released as THE HOUSE OF LOST DOLLS (among many other international titles), Pierre Chevalier's outrageously vulgar melodrama is a horny hybrid of existing European exploitation films spliced together with new footage to tell the tell tale of Yvette (Magda Mundari) who, after being liberated from a life of sex slavery in the titular barbaric bordello, tells her sordid story in flashback. Jack Taylor (Jess Franco's FEMALE VAMPIRE and SUCCUBUS) also stars as an intrepid secret agent (in footage shoehorned in from the '60s spy thriller AGENTE SIGMA 3: MISSION GOLDWATHER) while sexploitation starlets Silvia Solar (CANNIBAL TERROR) and Sandra Jullien (Jean Rollin's SHIVER OF THE VAMPIRES) also show up to the patchwork party. Filled to the freak-out point with nudity, violence and all-around bad behavior, HOUSE OF CRUEL DOLLS is one of the most shameless, mind-melting films ever assembled, available now from Full Moon for the first time in North America, fully uncut and remastered from the original negative. Come and hang out with the cruel dolls...you'll never be the same again! 
Region Free
Bonus Materials
Be the first to review this product.
Leave a review