We're sorry we're out of stock, but we can let you know as soon as this product becomes available again.
Enter your details below and we'll email you once this item is back in stock.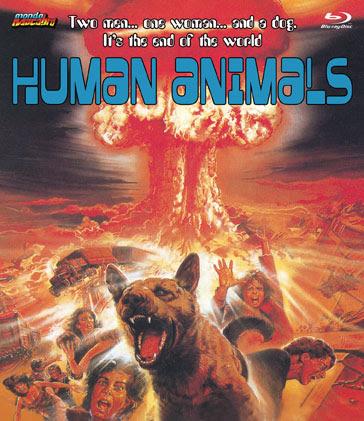 Send this product to a friend
Human Animals (Blu-ray) £20.23
Set in the aftermath of a cataclysmic nuclear war that has destroyed most of the world's population, HUMAN ANIMALS tells of three survivors – one woman and two men – who wake up on a strange, deserted landscape with no memory of their past lives and without the ability to even speak. The woman and one of the men appear to be brother and sister and are both dressed in formal party clothes. The other man is very different – a moustachioed, leather-jacketed macho type.
The trio set off to explore their new home and find a rocky beach where they come under attack from a huge army of crabs. The macho man fights off the crabs, crushing them with rocks before eating their soft flesh.  He then turns his attention to the woman and makes violent love to her while her brother looks on, powerless to stop them.
A huge dog appears and leads them over the mountains to a lush jungle paradise. They build a hut and learn to make fire and hunt for food. But soon violence, jealousy and above all sex, rear their ugly heads.  The men fight one another for possession of the woman. But then, to their horror they discover that the large and now vicious dog has also set his sights on her. Soon there really is trouble in paradise.
Certainly, one of the most unusual films ever released by Mondo Macabro, HUMAN ANIMALS is a total one-off. You REALLY have never seen anything like this before.
Region ABC
Bonus:
Brand new 4k transfer from film negative.
Interview with film's director-writer-producer
Be the first to review this product.
Leave a review