Nothing Underneath / Too Beautiful to Die (LE Slipcover)
Nothing Underneath / Too Beautiful to Die (LE Slipcover)
We're sorry we're out of stock, but we can let you know as soon as this product becomes available again.
Enter your details below and we'll email you once this item is back in stock.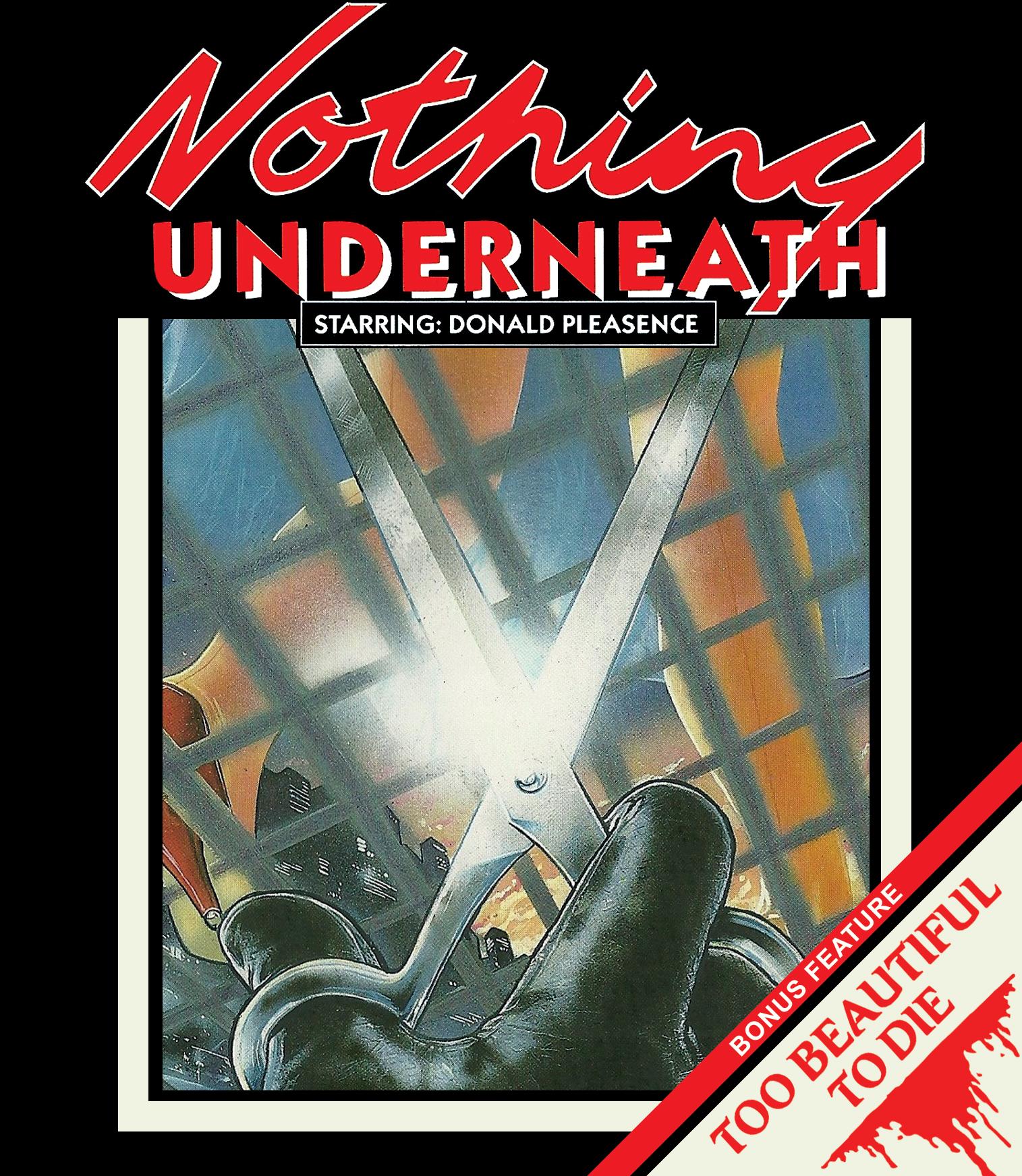 Send this product to a friend
Nothing Underneath / Too Beautiful to Die (LE Slipcover) £26.71
Bob Crane has long maintained a psychic connection to his twin sister, Jessica, who works as a fashion model in Milan. When Bob senses that his sister might be injured or killed, he travels to Italy to look for her, only to discover that she's vanished without a trace. Enlisting the help of about-to-retire Commissioner Danesi, Bob soon finds himself embroiled in a web of mystery and terror, when a scissors wielding killer begins to strike and all clues lead back to Jessica... A highly entertaining and unexpectedly raunchy late period giallo, clearly taking a cue from the American slasher craze, Carlo Vanzina's NOTHING UNDERNEATH amps up its mid 80s stylings and stars prolific TV actor Tom Schanley (Dexter), Danish fashion model Renée Simonsen, and Donald Pleasence (Halloween) and features a lush score by Pino Donaggio (Dressed to Kill).

A group of high fashion models have been invited to an isolated house to attend a party. As the night wears on, one of the models falls victim to a deadly 'accident,' which sets into motion a series of brutal murders, all traced back to a shocking secret... An in name only sequel to Nothing Underneath, prolific commercial director Dario Piana's feature film debut, TOO BEAUTIFUL TO DIE (Nothing Underneath II in Italy), is a quickly paced, ultra stylized, and satisfyingly violent giallo/slasher hybrid which stars French TV star François-Eric Gendron, Florence Guérin (Faceless), and Randi Ingerman (The Two Jakes).

Vinegar Syndrome proudly presents both NOTHING UNDERNEATH and TOO BEAUTIFUL TO DIE on English language Blu-ray for the first time, newly restored 4K from their original 35mm camera negatives and bursting with exclusive special features.

directed by: Carlo Vanzina, Dario Piana
starring: Tom Schanley, Renée Simonsen, Nicola Perring, Donald Pleasence, Florence Guérin, François-Eric Gendron, Randi Ingerman
1985-1988 / 194 min (combined) / 1.85:1 / English Stereo

Additional info:
• Region Free 2-disc Blu-ray Set
• Newly scanned & restored in 4k from their 35mm original negatives
• Both films presented in their original English language soundtrack along with an optional Italian dub track (untranslated)
• Reversible cover artwork
• English SDH subtitles for both films
Disc #1 NOTHING UNDERNEATH

Commentary track by The Hysteria Continues!

Commentary track by film historian and critic Rachael Nisbet

"Murders a la Mode" - an interview with screenwriter Enrico Vanzina

"Murder He Wrote" - an interview with screenwriter Franco Ferrini

"High Fashion Music" - an interview with composer Pino Donaggio

"Models, Murders and Italy" - an interview with actor Tom Schanley
Disc #2 TOO BEAUTIFUL TO DIE

Commentary track by film historian and critic Rachael Nisbet

"Nothing True But The Eyes" - an interview with writer/director Dario Piana

Alternate ending storyboards

Deleted Scenes Storyboards
Be the first to review this product.
Leave a review