Robowar (Limited Edition with CD)
We're sorry we're out of stock, but we can let you know as soon as this product becomes available again.
Enter your details below and we'll email you once this item is back in stock.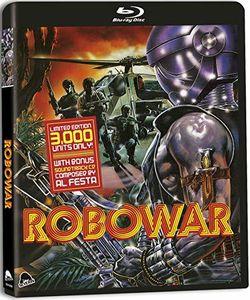 Send this product to a friend
Robowar (Limited Edition with CD) £19.63
A year before their jaw-dropper SHOCKING DARK, director Bruno Mattei (VIOLENCE IN A WOMEN'S PRISON) and co-writers Claudio Fragasso & Rossella Drudi (NIGHT KILLER, ZOMBIE 4) first collaborated on this brain-melting mash-up of PREDATOR, ROBOCOP and Philippines war movie mayhem. When a team of badass commandos is hired for a jungle rescue mission, they'll instead find themselves hunted by a kill-crazed creature that is part man, part machine and all glorious '80s ItaloSleaze. Reb Brown (UNCOMMON VALOR), Catherine Hickland (ONE LIFE TO LIVE), Massimo Vanni (RATS: NIGHT OF TERROR) and Jim Gaines (ISLAND OF THE LIVING DEAD) star in this "Freaking awesome must-watch for any action fan" (BMovieCitadel. Com). Now scanned in 4k from the original negative and loaded with all-new Special Features. 
Region ABC
BonusFeatures:
Robo Predator – Interview with Co-Director / Co-Writer Claudio Fragasso
Italian Rip Off – Interview with Co-Writer Rossella Drudi
Violence She Wrote – Career Interview with Screenwriter Rossella Drudi
Robo-Lady – Interview with Actress Catherine Hickland
Papa Doc's War – Interview with Actor John P. Dulaney
The Robowarrior – Interview with Actor Jim Gaines Jr.
War in the Phillipines – Interview with Actor / Stuntman Massimo Vanni
Catherine Hickland's Behind The Scenes Home Movies
Trailer
Bonus Disc: CD SOUNDTRACK
Be the first to review this product.
Leave a review