We're sorry we're out of stock, but we can let you know as soon as this product becomes available again.
Enter your details below and we'll email you once this item is back in stock.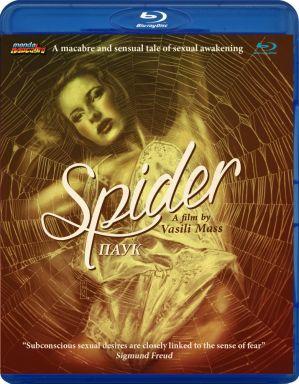 Send this product to a friend
Spider £20.17
Vita, a beautiful teenage girl, is asked by a controversial artist to pose as the Virgin Mary for a painting. She visits his studio and finds herself swept up into the bizarre world of the artist and his bohemian friends. She seems to see his paintings come to life and is pursued by strange shadowy figures. Later she has nightmarish visions of the artist visiting her at night in the form of a huge spider. The next morning she finds marks on her body that look like the bites of a large insect.
Vita's mother becomes worried about her and sends the girl off to stay with relatives in the countryside, believing that the change of environment will help her to recover. However, it seems the dark forces that threatened Vita in the city have followed her and an ancient evil is being awakened that feeds off Vita's burgeoning sexuality.   
This Latvian shot, Russian language film was produced in the post Glasnost years of the former Soviet Union, when the barriers were down and previously unacceptable material was being explored for the first time. This is one of the very few sex-horror films to come out of that period and still stands today as a daring and unique production, packed with elaborate and astonishing visual sequences of morbid eroticism.
Region ABC
Be the first to review this product.
Leave a review