We're sorry we're out of stock, but we can let you know as soon as this product becomes available again.
Enter your details below and we'll email you once this item is back in stock.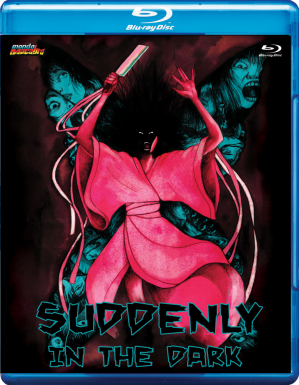 Send this product to a friend
Suddenly In The Dark £17.91
A woman's idyllic middle-class life is disrupted when her husband brings home a beautiful young orphan to be their maid. At first she welcomes the pretty girl, in fact seems strangely fixated on her, but soon comes to suspect the girl of having an affair with her husband. At the same time odd, unexplained incidents - most involving the maid's mysterious wooden doll - begin to make her question her own sanity. Soon it all spirals out of control and the film climaxes in a fever pitch of sexual jealousy, murder, and supernatural vengeance, all set to a pounding synth score. Almost completely unknown outside its home country, Suddenly in the Dark is one of the best examples of pre-millennial K-horror. It was made at a time when censorship laws were being liberalized, igniting a boom in horror and erotic films. Elements of both are present here, directed with bizarre flair by Go Yeong-nam in a style often compared to the wilder Italian films of the 70s and 80s. Mondo Macabro is proud to present this classic of Korean horror on Blu-ray for the first time anywhere in the world. Our presentation has been restored from the best available elements from the Korean Film Archive, and features brand new extras produced exclusively for this release. 
Region ABC