The Eurocrypt Of Christopher Lee Collection (Blu-ray Boxset)
We're sorry we're out of stock, but we can let you know as soon as this product becomes available again.
Enter your details below and we'll email you once this item is back in stock.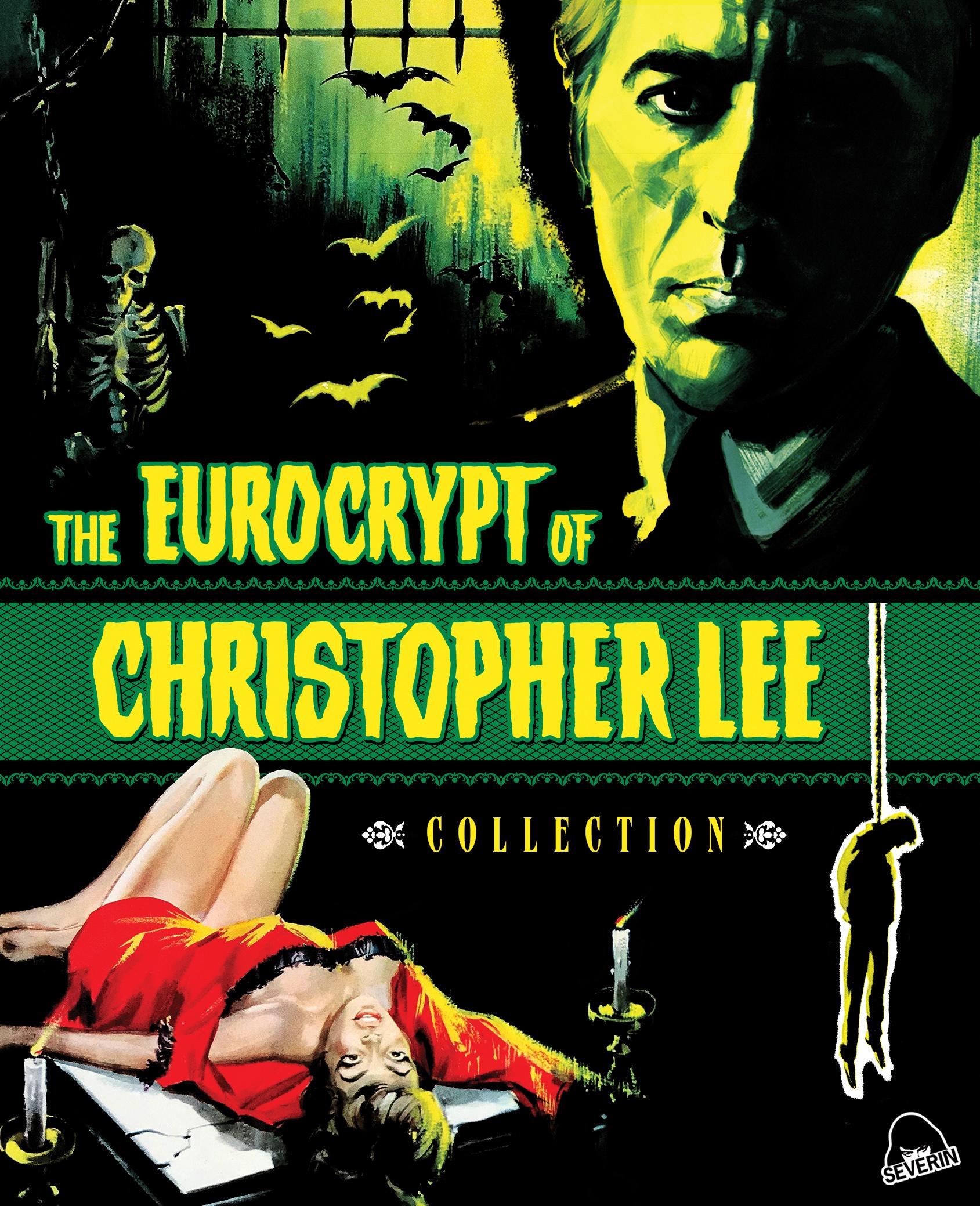 Send this product to a friend
The Eurocrypt Of Christopher Lee Collection (Blu-ray Boxset) £86.99
8 BLU-RAY COLLECTION FEATURING 5 CLASSIC EUROPEAN FILMS, A TV ANTHOLOGY, DISC OF RARE INTERVIEWS + BOOK & SOUNDTRACK CD
He remains one of the most beloved horror/fantasy icons in US/UK pop culture history, but Christopher Lee delivered several of the most compelling, acclaimed and bizarre performances of his entire career in 1960s Europe. THE EUROCRYPT OF CHRISTOPHER LEE brings together five of these Lee classics - the 1964 gothic shocker CRYPT OF THE VAMPIRE; the 1964 cult hit CASTLE OF THE LIVING DEAD co-starring an unknown Donald Sutherland; 1962's celebrated SHERLOCK HOLMES AND THE DEADLY NECKLACE; 1967's lurid favorite THE TORTURE CHAMBER OF DR. SADISM and the rarely-seen 1963 oddity CHALLENGE THE DEVIL - with the 24 surviving episodes of the 1971 Film Polski anthology series THEATRE MACABRE hosted by Lee, all remastered from original negative materials with over 10 hours of trailers, rare promos, audio commentaries & vintage interviews, plus the CASTLE OF THE LIVING DEAD soundtrack and an all-new 88-page book by Lee biographer Jonathan Rigby. 
Region Code: 0
Bonus Materials
DISC 1: Audio Commentary with Mondo Digital's Nathaniel Thompson & Film Writer Troy Howarth; Audio Commentary with Film Writer Kat Ellinger; From The Castle To The Academy – Interview with Master Producer Paul Maslansky
DISC 1 Continued: The Castle Of The Mystery Man – Roberto Curti, Author of 'Mavericks of Italian Cinema,' on Writer / Director Warren Kiefer + CD Soundtrack
DISC 2: Dance With The Devil – Interview with Roberto Curti, Author of 'Mavericks of Italian Cinema'; The Importance Of Being Giorgio – Interview with Giorgio Ardisson Over Two Decades; Trailer
DISC 3: Trailer
DISC 4: Audio Commentary with Film Writers Kim Newman & Barry Forshaw
DISC 5: Promo with Christopher Lee
DISC 7: Audio Commentary by Mondo Digital's Nathaniel Thompson and Film Writer Troy Howarth; Audio Interview with Actress Karin Dor (German with English subs); Location Featurette; Theatrical Trailer (German); Teaser Trailer
DISC 7 Continued: Die Schlangengrube - Die Burg des Grauens – German Super 8 Digest Short; Die Schlangengrube des Grafen Dracula – German Super 8 Digest Short; Poster Gallery; Behind the Scenes Still Gallery; Restoration Slideshow
DISC 8: HORROR!!! 1964 Swiss Documentary Short by Pierre Koralnik Featuring Interviews; Behind The Mask – Christopher Lee Remembers Boris Karloff; Colin Grimshaw Interviews Christopher Lee in 1975
DISC 8 Continued: 1985 Audio Interview with Christopher Lee, Accompanied by stills from The Del Valle Archive & Video Introduction with David Del Valle; Monsters & Vampires – Interview with Pioneering Horror Movie Historian Alan Frank
DISC 8 Continued: The Crypt Keepers – Making of CRYPT OF THE VAMPIRE with Screenwriter Ernesto Gastaldi, Assistant Director Tonino Valerii and Film Historian Fabio Melelli; 'It's Now Or Never' & 'She'll Fall For Me' Christopher Lee & Gary Curtis
DISC 8 Continued: Outtakes from TO THE DEVIL... A DAUGHTER / THEATRE OF DEATH 2001 DVD interview session covering the most frightening films ever, BLACK MASSES, POLICE ACADEMY 7 & More (15 mins)
DISC 8 Continued: University College Dublin 2011 Q&A with Sir Christopher Lee