We're sorry we're out of stock, but we can let you know as soon as this product becomes available again.
Enter your details below and we'll email you once this item is back in stock.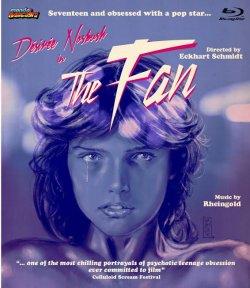 Send this product to a friend
The Fan (blu-ray) £24.49
Teenager Simone appears to be like any other young pop fan. But soon her fixation on the band's lead singer "R" takes over her life. Simone walks out of school, breaks off with her friends and parents and somehow finds herself waiting for her idol as he appears on a TV show.
When she sees him in the flesh she is speechless, unable even to ask for his autograph. He reaches out to touch her. Overcome with emotion, Simone faints; with that first touch, R's fate is sealed. Simone discovers the carefully styled world of which "R" is just another product. Simone wants nothing more than to love and be loved by "R", but he takes her with machine-like coldness.
Region Free
Bonus:
Interview with writer/director Eckhart Schmidt
English language version/German language version with new subtitles
First ever US release
Blu Ray/DVD combo