We're sorry we're out of stock, but we can let you know as soon as this product becomes available again.
Enter your details below and we'll email you once this item is back in stock.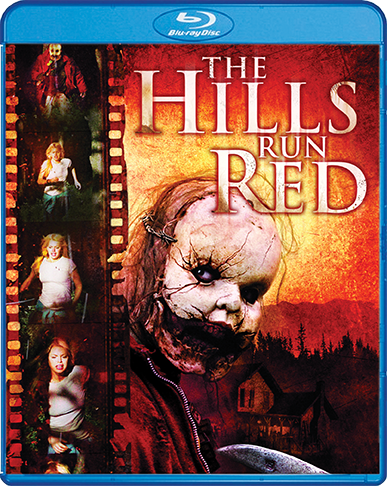 Send this product to a friend
The Hills Run Red £18.50
"It's Dark, Clever, Nasty As Hell." Fangoria
You heard the story. The one about the goriest, bloodiest splatter flick ever, the one made in the '80s but mysteriously lost. Flash forward to now: Young cinema buffs search for the secret location where the movie was shot, hoping to find the film. What they find is that the goriest, bloodiest splatter flick ever is more than a movie. It's real. And it's happening to them. The Hills Run Red vaults into a whole new level of horror as the terrified interlopers confront a demented killer who covers his hacked-up face with a baby doll mask. Wait, Babyface is just a character from the movie, right? Wrong. He's alive. He's waiting. He's thrilled to meet fans who will die slowly, gruesomely, shockingly for his art. Get ready to meet a new horror icon, Babyface! 
Region A
Bonus
Audio Commentary with Director Dave Parker and Patrick Bromley of "F This Movie" Podcast
Audio Commentary with Director Dave Parker and Filmmakers Joe Lynch and Adam Green
Deep in the Red – An Interview with Writer David J. Schow and Director Dave Parker
Running to the Hills – An Interview with Executive Producer Erik Olsen
Musical Terror – An Interview with Composer Frederik Wiedmann
Friday the 13th, June 2008 – A Tour of the Set with Director Dave Parker (Never Before Seen)
The Hills Are Alive... with the Sound of Improv – Interviews with the Cast (Never Before Seen)
William Sadler as Wilson Wyler Concannon – An Interview with the Actor from the Set (Never Before Seen)
Janet Montgomery as Serina – An Interview with the Actress from the Set (Never Before Seen)
Sophie Monk as Alexa Concannon – An Interview with the Actress from the Set (Never Before Seen)
Tad Hilgenbrink as Tyler – An Interview with the Actor from the Set (Never Before Seen)
Alex Wyndham as Lalo – An Interview with the Actor from the Set (Never Before Seen)
Interview with Producer Robert Meyer Burnett from the Set (Never Before Seen)
Interview with Production Designer Antonello Rubino from the Set (Never Before Seen)
Production Scrapbook
Original Animatic for the Proof of Concept Trailer
Proof of Concept Trailer
Original Audio Commentary with Director Dave Parker, Writer David J. Schow and Producer Robert Meyer Burnett
It's Not Real Until You Shoot It: The Making of The Hills Run Red
Trailer