We're sorry we're out of stock, but we can let you know as soon as this product becomes available again.
Enter your details below and we'll email you once this item is back in stock.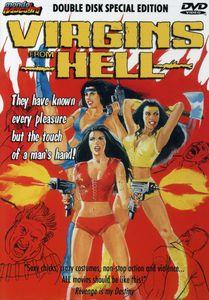 Send this product to a friend
Virgins From Hell (DVD) £18.29
The film opens with a gang of Asian biker babes in leather hot pants attacking a casino. The gang is led by two girls – Enny and Yenny, who appear to have a score to settle with the casino's sleazy owner. Unfortunately The girls are defeated and end up in a women's prison camp where they fall victim to the camp's vicious lesbian wardress. We discover that both camp and casino are controlled by the notorious Mr Tiger. Via a flashback we discover that Mr Tiger killed Enny and Yenny's parents and stole their land to build both the prison and a secret laboratory where he plans to manufacture a new aphrodisiac drug that will turn all women into helpless sex slaves. The girls plan their escape from the camp and their ultimate revenge on Mr Tiger.
Comes with a 2nd bonus disc containing 70 minutes of trailers from the studio that brought us VIRGINS FROM HELL – Rapi Studios (this disc is worth the price alone!!)
Region 1 DVD
2 Disc SE
Anamorphic Widescreen
Extensive background notes
History of women in prison films
Destination: Jakarta. 70 minutes of trailers from Rapi films, the studio behind Virgins From hell
Trailers include Mystics in Bali, The Warrior and many, many more
Indonesian exploitation – a special documentary on the history of Indonesian action, sex and horror movies