Woman Chasing the Butterfly of Death
We're sorry we're out of stock, but we can let you know as soon as this product becomes available again.
Enter your details below and we'll email you once this item is back in stock.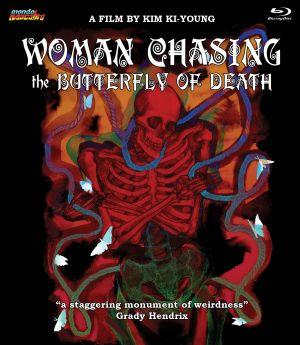 Send this product to a friend
Woman Chasing the Butterfly of Death £20.04
Like a kind of crazy cinematic ghost train ride, Woman Chasing the Butterfly of Death take us on a journey deep into the darkness of one man's fears and fantasies. That man is Young-gul, a lonely and rather morbid student in late 1970's South Korea. Narrowly surviving a murder-suicide attempt by a woman wearing a butterfly pendant, he next finds himself besieged by a seemingly insane bookseller who claims he can never die. Even after Young-gul burns the man's body his skeleton comes back to taunt him. As if that weren't enough, the poor student then finds himself the victim of a beautiful thousand year old woman (she looks about 25) who says she is hungry and wants to eat his liver….
The director, Kim Ki-young, was one of Korea's most successful film makers. His 1960 production The Housemaid is now a recognized classic of world cinema. With this film he goes far beyond the bounds of the real and takes us into a world where anything  seems possible, a world where a kind  of dream logic rules. Almost impossible to summarize, the film is nevertheless insanely enjoyable. A real one of a kind production that opens our eyes to the limitless possibilities of cinema.
Region ABC
Be the first to review this product.
Leave a review