Dangerous Cargo (blu-ray)
We're sorry we're out of stock, but we can let you know as soon as this product becomes available again.
Enter your details below and we'll email you once this item is back in stock.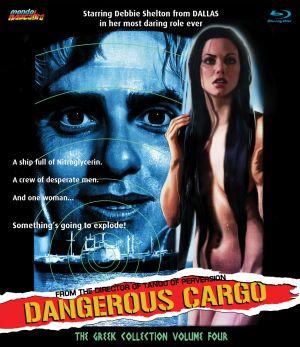 Send this product to a friend
Dangerous Cargo (blu-ray) £20.17
In this wild and rarely seen example of Greek exploitation cinema, Deborah Shelton - former Miss USA and star of TV's DALLAS - plays the wife of a ship's captain whose vessel is taken over by pirates. After her husband is brutally killed she is alone with a crew of rough, tough seafarers. When the pirate leader takes an interest in her she has to use all her cunning and skills - not to mention her sexuality - to stay alive and take revenge for the murder of her husband. The film is a tense and brutal story of lust and treachery on the high seas. Set entirely on a huge ship carrying an illegal cargo of dangerous nitro-glycerine, the film racks up the tension to almost unbearable levels as cross and counter cross take place among the warring parties. When a powerful cyclone threatens to sink the ship and kill all aboard, the former enemies must collaborate to save themselves. Directed by Kostas Karagiannis, the crazed genius behind such films as THE WIFE KILLER and TANGO OF PERVERSION, DANGEROUS CARGO is exploitation cinema at it's finest. Deborah Shelton, in her raunchiest role ever, is by turns scared, seductive and scheming as she takes control of the situation and springs more than a few surprises for the viewer. 
Region ABC
Be the first to review this product.
Leave a review